Jennifer Wamelink, J.D.
---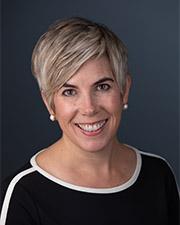 Biography
—
Jennifer Wamelink began her Jayhawk Journey in 1997 as a Complex Director for GSP and Corbin Halls. She was with KU Student Housing for more than 18 years, serving as Associate Director for Residence Life from 2006 through 2015. She joined Student Affairs as Associate Vice Provost in January of 2016.
As Associate Vice Provost, Wamelink focuses on student wellness and works closely with Watkins Health Services, Counseling and Psychological Services, Recreation Services, Hilltop Child Development Center and Legal Services for Students. Wamelink chairs the Student of Concern Review Team and can be consulted when any member of the community is concerned about the well-being of a KU student.
Wamelink has been active in her professional associations, having served as President for the Upper Midwest Region of the Association of College and University Housing Officers (UMR-ACUHO). She was recognized for her service in October of 2015, when she was awarded the Robert E. Mosier Award for Professional Enrichment. She presently represents UMR-ACUHO on the Foundation Board for the Association of College and University Housing Officers-International.
In 2008, Wamelink received the CLASS award from the Board of Class Officers for her contributions to KU and its students. For several years, Wamelink has taught UNIV 101, KU's orientation seminar, and has a passion for helping students successfully progress beyond the first year to graduation.
Wamelink grew-up in North Carolina and earned her Bachelor of Arts and Juris Doctor from Wake Forest University in Winston-Salem, North Carolina.